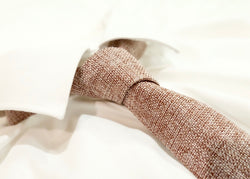 If you built a home or church in Los Angeles in the 50's or 60's, there's a strong chance you used this fabric to decorate your walls or dress up your windows. Now you have the chance to use this fabric to dress up your neck.
Creativity is making new associations and connections. We are excited to combine this decorative fabric with our custom tie pattern. The result is a uniquely beautiful design. 
Feel: Tenacious
Thickness: Medium
Content: 65% linen | 35% polyester 
Width: 2.25 inches
Length: 60 | 64 inches 
Fabric Origin: USA
Product Care: Starch and iron on high heat. Freshness guaranteed.
Supply: Limited to 12 handcrafted pieces worldwide. Each design signed and numbered.